Bridge To Bridge Marketing
What We Do
At Bridge To Bridge Marketing we believe that it's all about the brand; that making connections through innovative, full circle marketing campaigns is one the most cost-effective and measurable means to achieving success.
Our team, with 19 years of industry experience and an array of promotional and creative services, guides customers to achieving outstanding results.
From print and packaging to custom branded merchandise, graphic design, direct mail, e-commerce, on-site gifting, and event management, we offer integrated support, service, and consultation to provide you with a solution that best fits your budget and needs.
Together, we partner with you to elevate your brand and exceed your expectations.
Featured Item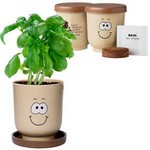 Goofy™ Grow Pot Eco Planter Set w/ Bas...
Made from reclaimed organic materials including bamboo and corn fiber, these adorable sets include a biodegradable planter with the stock Goofy™ face print on one side, a compressed soil wafer, and a ...
$2.18 - $2.48
What Our Customers Are Saying
When looking for a brand marketing partner, I'd highly recommend Bridge to Bridge Marketing for branded solutions. A boutique firm with a powerful team behind the scenes, Emily is truly extraord...
Jennifer Petre
Arch Mortgage Insurance